homeschooling & educational resources

Power Homeschool (Acellus Homeschool)-($25/mo or $250/yr)                                                                Power Homeschool is a program intended to aid parents in homeschooling their student. Parents may choose up to 6 courses at a time from numerous courses (grades PreK-12). Students are able to learn at their own pace under the supervision and assistance of their parent.
Time4Learning- ($19.95/mo. $14.95/mo for ea. addt'l student K-8. $30/mo. for High School            Time4Learning is an online education program that teaches preschool through twelfth grade curriculum in an interactive, student-centered environment. There are over 1,000 animated lessons, printable worksheets and graded activities to teach math and language arts lessons correlated to state standards. Science & social studies are also provided as a bonus for most grades. Plus, there is a low monthly fee, no contracts, and a 14 day money back guarantee. 
ABCmouse.com Early Learning Academy- (Free for 30 days. Fees starting at $9.95/mo.) ABCmouse.com is a subscription-based digital education program for children ages 2–8. Subscribers can access learning activities on the ABCmouse.com website or mobile app for tablet or smartphone. Subjects covered include reading, math, science, social studies, music, and art.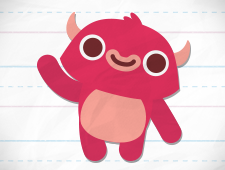 Endless Learning Academy- (Lifetime access is $119.99 from the app store)                                          Provide comprehensive early learning preparation for your child with this delightfully interactive educational app from Originator – Endless Learning Academy! Kids will learn across a broad and growing curriculum all while having FUN with the help of the adorable Endless monsters! Designed and developed for children of ages 2-6.
Connections Academy Online Public School- (FREE)                                                                                      Connections Academy is a tuition-free online public school for grades K–12. In this virtual classroom, students can spend the school year reaching their highest potential through a uniquely individualized learning program. Most Connections Academy–supported schools are accredited by one of the six regional accrediting agencies.
K-12 Online Public School-(Free) K12 provides online education solutions for students in pre-K through 12th grade.  K12's online public school programs include multiple types of schools:
Virtual Academies are statewide and offer the K12 program online for grades K through 12
Insight Schools help middle and high school students and their families overcome academic obstacles with a unique and highly supportive approach to learning
Blended Schools are full-time, five-day-a-week that combine a hybrid of the best of online education with a traditional onsite location
Discovery K12- (Free or Upgrade to Parent/Teacher acct. for $50/yr.) DK12 offers a traditional, Non-Common Core, secular, homeschool curriculum. Reading classic literature, writing essays, creating presentations, and conducting research are important aspects to the program. Discovery K12 is a flexible program that allows parents to use all or parts of the curriculum with full control over the instruction.
Khan Academy and Khan Academy Kids (app)-  (Free)                                                                        Khan Academy offers practice exercises, instructional videos, and a personalized learning dashboard that empower learners to study at their own pace in and outside of the classroom. They tackle math, science, computer programming, history, art history, economics, and more.
DoodleMaths- (Free with Upgrade options)                                                                                                          DoodleMaths is the low-cost, high impact alternative to tuition that is proven to boost math confidence.
Their curriculum experts have aligned DoodleMaths carefully to curricula in the UK, US and internationally, complementing math in the classroom perfectly.
With its intelligent algorithm, DoodleMaths chooses the questions that matches your child's strengths and weaknesses so you don't have to – leaving you time to support and motivate them, confident in the knowledge that they're learning exactly what they need to learn.
DoodleMaths rewards effort over attainment, so there's plenty to keep children engaged while they improve their math skills.

SightWords.com-                                                                                                                             SightWords.com is a free Resource to teach your child to read using a comprehensive sequence of teaching activities, techniques, and materials for one of the building blocks of early child literacy. They combine the latest literacy research with decades of teaching experience to bring you the best methods of instruction to make teaching easier, more effective, and more fun.
AdaptedMind-AdaptedMind- (One FREE month. Then $9.95/month & includes up to 5 children). It offers a customized online K-6math and reading curriculum that is research-based, common core aligned, and comprehensive – with over 300,000 math problems and explanations. But even better, students will feel like they're playing a game.
Scholaric- Scholaric makes it easy for you to create homeschool lesson plans and keep track of hours and grades for your students simply, quickly, and easily. There's nothing to download or install. You never worry about losing your hard drive again. Available any time and anywhere on any device.
aTimeLogger- aTimeLogger is an app that provides everything you need to track time, data, and other information quickly and easily.  Find it in the App Store or on Google Play.
[amazon_link asins='B001CD9RRG,B003ULCZ7M,B00005C55O,B00005BZRZ,B01J90N2IS' template='ProductCarousel' store='biglittlemomm-20′ marketplace='US' link_id='ae82ed2d-66bc-11e7-ad97-01eafc4b19de']