THIS POST MAY CONTAIN AFFILIATE LINKS. We may earn a small commission at no extra cost to you from items purchased through links in this post. Please read my DISCLOSURE for more info.
When I first started homeschooling a few years ago, I was fortunate to have been able to ask questions and get ideas from a few seasoned homeschooling moms.  I can't begin to put into words how helpful that was. Even if I ended up making choices different from theirs, I at least had some suggestions to work with in order to navigate my way through this foreign world.
Here are just a few of the MANY online programs out there that are available.  I have personally chosen to stick with online schooling because it is what has been working for ME. With a newborn turned toddler at my hips 24/7, selecting an online curriculum has allowed my oldest child to be able to learn a little independence balanced with just the right amount of oversight from me.  If my circumstances change at some point down the road, we may explore other options. For now though… this is it.  Along with other outside educational activities and resources, this system has been working just fine.
Although I essentially only talk about four curricula in the video,  that doesn't mean that there aren't other quality programs worth investigating.  Many have enrolled their children in tuition free online public school programs such as Connections Academy and K-12.  I decided they probably wouldn't work for our schedule, but they may end up being just what your family needs.
accreditation
What about accreditation? Accreditation is a process in which school standards are evaluated by an accreditation agency.   Here in the U.S.,  this process is not completed by the federal government. Instead, it is done so by states or private companies with varying rules and standards. Don't worry though. A homeschool diploma does indeed have value.  Unaccredited public schools can provide a diploma, just like unaccredited homeschool families. The overall opinion of homeschooling has come a loooong way over the years. Nowadays, most colleges and universities have absolutely no problem accepting students who graduate with an unaccredited homeschool diploma. If however, you would still like for your child to receive a diploma from an accredited program, there are plenty of higher priced curricula out there (getting a certification is extremely pricey and therefore the cost trickles down to you). Some homeschooling families take advantage of time to save money and wait until high school before switching over to an accredited curriculum.  Once again, do your own research in order to decide which route will best serve your family.
recommendations
In the next part of my homeschooling series, we'll explore various ways to supplement your homeschool studies outside of the home.  So, get ready to do a little exploring around town. It'll be a lot of fun. I hope you'll get a few takeaways whether or not  you're local to my neck of the woods.
In the meantime, browse my homeschooling recommendations page for links to other practical educational websites and resources.  Check back often as the listing will most likely continue to grow and change.
So, grab a cup of coffee, tea, or  Ningxia Red,  plug in your earbuds,  and  hit play as I walk you through a few programs that have ended up being a great fit for our family during this journey.
You may also want to check out my post from last year:  Our First Year Homeschooling and What I Learned Along the Way.
Programs mentioned in the video:
*Note:  See my homeschooling recommendations page for a longer list of free or low cost homeschooling curricula and resources.

Power Homeschool (Acellus Homeschool)-($25/mo or $250/yr)                                                                Power Homeschool is a program intended to aid parents in homeschooling their student. Parents may choose up to 6 courses at a time from numerous courses (grades PreK-12). Students are able to learn at their own pace under the supervision and assistance of their parent.
Time4Learning- ($19.95/mo. $14.95/mo for ea. addt'l student K-8. $30/mo. for High School            Time4Learning is an online education program that teaches preschool through twelfth grade curriculum in an interactive, student-centered environment. There are over 1,000 animated lessons, printable worksheets and graded activities to teach math and language arts lessons correlated to state standards. Science & social studies are also provided as a bonus for most grades. Plus, there is a low monthly fee, no contracts, and a 14 day money back guarantee. 
ABCmouse.com Early Learning Academy- (Free for 30 days. Fees starting at $9.95/mo.) ABCmouse.com is a subscription-based digital education program for children ages 2–8. Subscribers can access learning activities on the ABCmouse.com website or mobile app for tablet or smartphone. Subjects covered include reading, math, science, social studies, music, and art.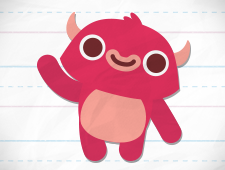 Endless Learning Academy- (Lifetime access is $119.99 from the app store)                                          Provide comprehensive early learning preparation for your child with this delightfully interactive educational app from Originator – Endless Learning Academy! Kids will learn across a broad and growing curriculum all while having FUN with the help of the adorable Endless monsters! Designed and developed for children of ages 2-6.